Have you ever worn a pair of shoes that just hurt? All my heel wearing beauties out there, I know you feel me! Whether it's for fashion, work, or the love of a sport, we've all been there – shoving our feet into shoes that are likely not the best, causing the dreaded foot pain. Foot pain stinks, and while I'm not suggesting that we start a barefoot revolution, I am suggesting that we need to show our feet a little love!
Our feet are made up of tons of bones and joints, all articulating and allowing us to walk, dance, and run. But, with more joints, means more opportunities for foot pain. So, get ready for an easy trick to keep your feet in tip-toe shape.
I've heard this called the, "yogi handshake", or "the toe hug", but I just call it darn right genius, because it leaves your feet feeling amazing! Here's what you do:
Foot Pain Relief For Dummies
1. Take a seat
2. Remove your socks (air out those puppies)
3. Spread all ten toes (or however many you got) nice and wide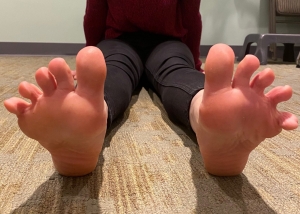 4. Introduce your right hand to your left foot 'cause they about to get real close
5. Intertwine your fingers between each toe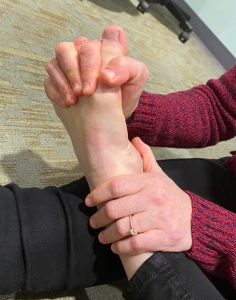 6. Gently bend your toes back and forth
7. Release your grip
8. Take a few steps and feel the magic before repeating on the other foot
9. Wash your hands! Feet be nasty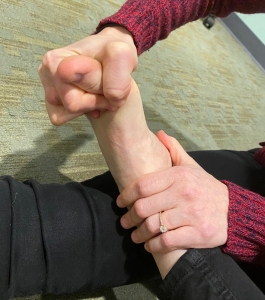 There you have it! A fast and easy way to keep foot pain at bay. We learned this awesome technique at the MPI extremities seminar here in Portland, Oregon. Try it out for yourself and let us know what you think!
Portland OR Chiropractors at Cascade Chiropractic & Wellness provide customized chiropractic care to the Portland OR, Gresham OR, Clackamas OR, Beaverton OR and Vancouver WA communities.  Visit our main website at eastportlandchiropractor.com
Choose several options to schedule your appointment: call (503) 257-1324 or request with our online form.